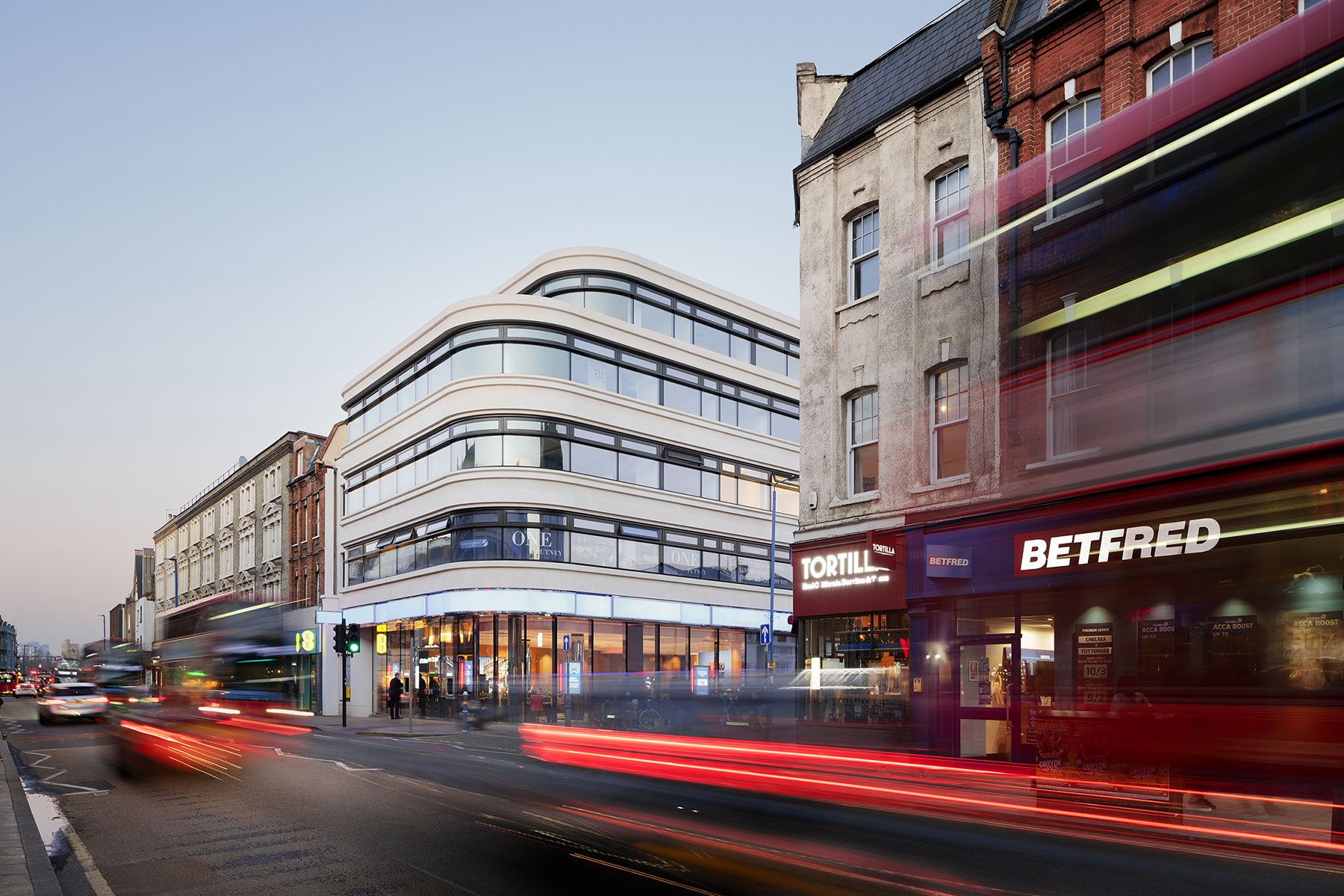 Building Visit: ONE Putney with Tyen Masten
Series : Building Visit
Date : October 25 2019
Time : 4:00 pm - 5:00 pm
Location : ONE Putney
Ticket Price : £0.00
This event was originally on 10 October and has been postponed to 25 October
Join us for a tour of the recently completed ONE Putney with Tyen Masten, former AA Academic Staff, current AA Member and founder of PHASE3.
Building description provided by PHASE3:
ONE Putney aims to transform a neglected stretch of Putney town centre while establishing a new dialogue for future developments along this main thoroughfare. Simultaneously, mitigating the scale of the high street and the adjacent neighbourhood required a thoughtful response in order to create a well-proportioned and well-crafted building for the future.
The six-storey BREEAM Excellent building includes 15 residential apartments, a shared rooftop terrace and green roofs. The design plays with interlocking volumes, reinterpreting the original structure in a new way. Curved corners emphasise the continuous lines along the high street and Montserrat Road, activating more pedestrian space. Horizontal and vertical elements are formed from precast concrete, echoing townscape materials. Carefully respecting scale and the relationship between the high street and bordering residential road, the mixed-use development establishes a strong identity and active retail frontage, with the rear elevation stepping down to reflect the height of two-storey terraced housing behind.
Please meet at 3:55pm at the entrance to ONE Putney, 89-95 Putney High Street, SW15 1SR. The tour will last for approximately 1 hour.
Open to AA Members (including AA Students & Staff). Become a member. Book your place using the form below.
AA Students go for free – the booking fee will be refunded to students if they attend the event
24 spaces available BOOK / VIEW
Series : Silver Gala
Date : November 19 2019
Time : 6:30 pm - 11:59 pm
Location :
Ticket Price : £500.00
Silver Gala
Tuesday 19 November 2019
36 Bedford Square, London, WC1B 3ES
The Silver Gala is an important event to raise funds for the Public Programme and Publications at the AA. Guests who attend this evening are helping us to keep our lectures, symposia and exhibitions free and open to everyone and proceeds from the 2018 Silver Gala made possible the revival of AA Files, the long-standing and globally-renowned journal of the AA.
The Silver Gala also offers AA students and staff the opportunity for us as individuals, and as a School, to reach out to networks who could potentially contribute to the success of the AA in the future.
We invite all students and members of staff to distribute invites to the gala. Should any of your selected individuals accept the invitation to attend, you will receive a free ticket to the event. Download this pack of useful material, send your invitations, and if your invitee indicates your name when making their booking, we'll let you know.
Alternatively, buy your guest a ticket using the form below and your ticket will be for free.
350 spaces available BOOK / VIEW
Series : Silver Gala
Date : November 19 2019
Time : 6:30 pm - 11:59 pm
Location :
Ticket Price : £500.00
Silver Gala
Tuesday 19 November 2019
36 Bedford Square, London, WC1B 3ES
If you would like to donate further and become part of the Silver Gala Committee please email development@aaschool.ac.uk
348 spaces available BOOK / VIEW